Frequently asked questions
Refunds & Returns
Why can't I have a refund on digital products?
---
Refunds are not available for digital products, such as files, Club Memberships and Brush Sets. Once the order is confirmed and paid for by you, the product is immediately made available to you to download and so it is also not possible for you to return the product.

All descriptions and product images will always state what program or file type the product is for. It is your responsibility to make sure to check if the product is compatible with your software or art program before purchasing.

There is no obligation for Simkray to provide a refund in the following situations:

-You changed your mind about the product.
-You bought the product by mistake or didn't read the description
-You do not have sufficient expertise to use the product. -You use a torrented/illegal vertion of the art program.
---
How can I cancel my club membership?
---
You can cancil your membership at any time by clicking your icon in the top right, clicking subscriptions and then canceling.
---
---
General
Why do you always draw black people?
---
In short because I am black and there isn't enough representation of black people in fantacy in the uk. If it upsets you that I mostly have black characters, you should probably reflect on why that is.
---
I'd like to use your art in my blog, video, Profile?
---
If you wish to use my work in a blog, video or acticle etc, that is fine as long as you proply cridit me for my work. ie. (Art by Simkray) and link/tag my website or account. if you plan to use my work for profit/money then I do not give you permission. Thanks for understanding
---
Do you have a patreon I can support you on?
---
Yes I currently have a Patreon, however you can suport me by becoming a Kray Club Member on my website too. you can also support me by purchasing something from my shop.
---
What is the best way to contact you?
---
Emailing me is the best way to make sure I get your message: Simkrayink@gmail.com

If you contact me on one of my social media sites there is a chance I might not see it, so if it's something important it's best to email me.
---
What software do you use?
---
Computer: MacBook Pro Retina, 15-inch
Tablet: Wacom 27qhd Art Programs: Clip Studio Paint

Video Editing: After Effects & Premiere Pro
---
Can you draw me for Free?
---
No.
---
Are your commissions open? / When will they be open?
---
My commissions will open and close depending on the available time I have. I will only be opening 3 slots at a time, which will open again as work is completed and space becomes avaiable.
---
Where can I read Not Another Cliche?
---
You can read Not another cliche! here on my website, Patreon, Tapas and webtoons. My Website and Patreon are both £3 to join and directly supports me and my webcomic. Tapas and Webtoons are free.
---
What are your work hours
---
Monday - Friday 11:00 - 7:30 GMT Saturday Closed Sunday Closed Based in London UK
---
Can you give me your brushes for free?
---
No.
---
Can you work on my project for free?
---
No.
---
How do you draw/ make webcomics?
---
Subscribe to my youtube channel for more.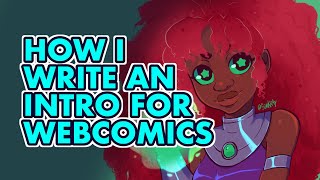 ---
---
Commissions
What won't you draw?
---
I do not accept any requests for racist, offensive or sexually explicit things, and I do not expect/wish for my work to be used in that form. There are things I haven't drawn before, but I'm fine with giving anything a go as long as you are ok with it!
---
Can you draw me something in this artist style please.
---
No. If you want something to be drawn in another artist style then please contact them instead of me.
---
How long will my commission take?
---
My working speed varies and depends on how many commissions/ projects I am currently working on. because of this, I will normally provide a rough starting date for when I will start working on your commission.

However commissions can take anything from a few weeks to a month or more, again depending on what you are commissioning.

Timezones.
if you are located in a different timezone to me (UK), that means there will probably be a delay when it comes to sending emails to one another
---
How much is your copyright?
---
I do not sell my copyright. only licences.
---
Can I order a commission if I see you at a market?
---
No. I don't do on the spot commissions as I do not carry my art supplies with me.

I only take commissions through my website, you can ask me about my commissions but I won't draw anything during a market and I will not take any payment for a commission during a market or event.

Thank you.
---
Do I recive the original file for the commission?
---
My commission prices do not inculde the original file. However the file can sometimes be purchased for an additional fee. you will recive a png or jpg file so you can post/ use the image
---
Can I take your work and put it in a book, T-shirt, etc
---
No. Please do not do this. If you want to use my work in a book or magazine, Please Contact my agency Illo Agency
---
What are Art Commissions?
---
Art Commissions is a service where a client pays an artist to create original custom art.
---
Do you do Custom T-shirt Commissions?
---
No.
---
Privaticy Concerns?
---
If you do not wish for me to make your commission public on my socail midia until you are able to make/print a certain product let me know so we can work something out.
---
Updates to my copyright and licensing policy
---
Please Note: I will update my copyright and license information every few weeks or so. Therefore if you have commissioned me in the past, certain things may have changed therefore I will always send you an information sheet contain the current information.
---
I'm writing a Children's book, can you illustrate it for me?
---
I don't always take on these types of commissions, as they are very time consumeing, and take a long time to do, but you are wlcome to ask.
---
I have a budget for a project I'm working on, will you be able to work on it?
---
It depends on how much "work" you are requesting in regards to your budget. If your budget isn't realistic then I'll have to decline your request. "But I'm paying you, so you should just do the work?" I have my own business to run and create things for, so if you'r not paying me propoly for my time then I can not take time away from my own work.
---
---
Kray Club
What is Kray Club?
---
Kray club is a membership service which allows you access to member only content on this website. Our basic free membership, which is avable upon creating an account, allows you access to the free content avable on simkray.com. Monthly Brush club members are able to access the brush club section in the club only area, this membership allows you to download a new monthly brush pack as well as 3 past brush packs. Vip annual membership allows member to the full archive of simkray brushes, where you can download over 20+ brush packs, you can also redowload any of the brush packs at any time.
---
How do I import my brush to my art program?
---
All Brush Sets include a guide on how to import the brushes.
---
Can you make your Brush Sets for [insert Art Program here]?
---
When it comes to different art programs, it's important to note that each drawing program has its strengths and weaknesses, certain brushes will only work for that particular program or might work for more than one program but will look/work differently in each one. I am only 1 person and for the most part I mainly use Clip Studio Paint for my work so it would be difficult in some cases to create brushes for programs I personally haven't used before. you can read my blog for more info.
---
When will new Brushes be uploaded to Brush Club?
---
New brushes will be uploaded on the 15th of every month. Brush Sets will normally include at least 10 new Brushes. However During events like halloween, Christmas ect, I might include more.
---
I've lost my brushes, can you send them to me again?
---
If you are a brush club member, you already have access to the brushes which are switched out monthly, if you are a vip member then you can redowload any of the brush packs at any time from the vip section in the members area. If you have canciled your membership, you will lose acess to these features and will no longer be able to redowload the brushes. For members who have purchased a brush pack from my shop, I may be able to resend a brush pack if it's still available in the shop. Please send an email from the same email account you made the purchase, with your name and order number to Simkrayink@gmail.com. If you are not able to confirm your name or order number then I will not be able to help you, and I can not give out any information on my end for obvious safty reasons. Please keep in mind that my brush packs are constantly being updated, added too, and changed. so I may no longer have the same brush file you purchased. It is also your responsibility to properly store your brushes once they have been purchased.
---
What is Brush Club?
---
Brush Club is apart of Kray Club but includes a new set of brushes each month. Most of the brushes I make will be mainly for Clip Studio Paint as it is the main program I use for my own work. But I might occasionally make sets for other programs. Brush Club will not be a permanent service.
---
---